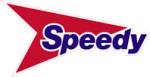 Description
Speedy Hire Services is the UK's leading tools, equipment and plant hire services company, operating across the construction, infrastructure and industrial markets.
In 1977 Speedy hire Services opened its first depot in Wigan under the leadership of John brown. The company purchased Speedy Fixings Power Tools Ltd in 1982. In 1987 the first depot opens in London with Graham Neave, Ian Gibson, Kevin Everett and Shaine Coll joining the company. Speedy buys Hire-A-Tool and Kendrick hire in 1993, including the first depot in Wales and splits the two companies to form its southern and northern division. 3 Years later, they acquired Tidy Hire to create Speedy Midlands. The name changed to Speedy hire plc in 2001. Its 25 years in hire was celebrated in 2002 and the company acquired Jewson's 37 standalone depots.
Over the years, Speedy Hire Services has gone from strength to strength by acquiring new contracts, setting up special agreements and expanding the company to cater to the whole UK. The company also established numerous safety campaigns to address the conditions in the construction industry at site level and an occupation disease known as Hand Arm Vibration Syndrom, also known as white finger.