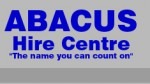 Description
Abacus Hire centre provides a wide variety of more than 200 tools for DIY and trade. They are the expert specialists in finding the right tool for the job, whether a small or large project.
They offer professional advice and short and long term hire for a wide range of tools and machinery. Abacus hires to DIY enthusiasts and trademen on a 4 hour, daily or weekly hire basis. They do require a deposit and identity check for non-account customers.
Abacus Hire Centre stocks everything from powered access platforms, breakers, concrete mixers, drills, excavators, pumps, chainsaws, gardening equipment and many more. The company has been providing tool hire for over 25 years and they offer quality products at affordable pricing.
Description
Rutland Hire Centre has a wide range of DIY and professional tools available for hire, at a highly competitive price. Over the years they have provided their equipment to many residents in Rutland, and they keep coming back for more thanks to their personal service and special rates. They stock everything from hand tools to garden tools, plus they are open 7 days a week.
From their unit in Oakham, Rutland they are able to provide DIY enthusiasts with the tools they need to complete the project. Their stock covers a wide variety of quality tools, ranging from small power appliances right through to garden equipment. All of the equipment they hire out are well maintained, making sure they are reliable and in the best condition possible for when you use them.