helpfull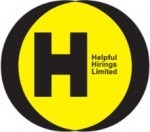 Description:
Tool hire company in Aylesbury, Buckinghamshire, England
Helpful Hirings Aylesbury is the second branch of Helpful Hirings Ltd, which has a primary prance in Thame, Oxfordshire. The company has been established in 1963 and has been hiring equipment for industry and DIY purposes for nearly fifty years. Backed up by factory trained technicians, their large range of equipment is modern, reliable and competitively priced.
With such a huge inventory of tool hire and equipment hire, Helpful Hirings can help you with any job. Their excavator hire and plant hire ranges include Komatsu digger hire, Kubota mini digger hire, Neuson skip loader hire, Thwaites dumper hire, and Bomag roller hire. They also have a selection of Manitou forklifts and Merlo teelehanders to satisfy your materials handling needs.
If you need to work at height, their access platforms and booms offer a variety of options in terms of powered access hire. Their platform hire fleet includes all industry favourites such as Nifty Height Rider 12, Genie Z45 and JL 2030 machines. For static scaffold hire, Helpful Hirings is pleased to offer a choice of Boss alloy towers from Youngman.
If you site required electricity while it's not available, you can use their Stephill generator hire to power lights, equipment, and event stands.