ubm tool hire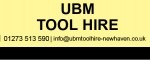 Description
UBM Tool Hire is a family run machine hire shop that has been supplying tools for every job for over 30 years. Their large tool hire shops gives you the chance to see machines before you commit to a rental period. They have been checked and approved by their local council. What's more is that their long opening times means you can visit them outside of working hours.
UBM Tool Hire provides building equipment, hammers and drills, welding tools, woodwork tools, grinders and sanders, garden tools, decorating tools, cleaners and mashers, auto equipment, transformers, lighters, extensions and access equipment.
They provide hassle-free service with delivery and collection to local areas. The company has a great range of machines available for hire within their large tool hire shop. UBM also offers competitive prices, service and repairs, personal service and ample parking. Their staff are also small tool specialists.