Makita has carried out a fundamental redesign of the drive mechanism of the cordless reciprocating saws by aligning the drive crank and con-rod with the motor shaft and blade holder. This new layout delivers greater stroke performance and reduces vibration in operation. The range has expanded with the launch of the new Makita DJR360Z 36v reciprocating saw powered by two standard 18v Lithium-Ion batteries directly fitted to the tool to supply energy to the powerful 36v DC motor drive system.
The new Makita cordless reciprocating saws have a longer 32mm stroke – the same as the mains powered machines – giving a maximum cut in wood of 255mm and will cut through a 130mm diameter pipe. The new drive train reduces vibration levels in operation: for example with the DJR186 model vibrations are reduced from 19.5m/s down to 13.0m/s when cutting board which is effectively a 30% reduction.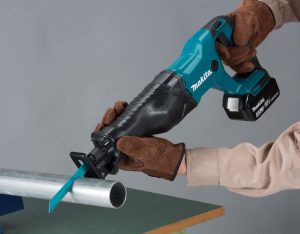 The Makita DJR186 18v LXT reciprocating saw will deliver 2,800 strokes per minute with the new crank mechanism, weighs just 3.8kg and is supplied as body only or with two 4.0Ah batteries and charger.
The new Makita DJR187 is a 2-speed reciprocating saw with Brushless motor that will run up to 2,300 spm in low speed and 3,000 spm in high speed. Blade speed is controlled by the variable trigger on the soft grip handle with the electronic 2-speed controls also conveniently placed. All Makita reciprocating saws have tool-less blade holders using an easy-to-use twist lock system. The DJR187 weighs just 3.7kg and the new drive train and shorter BL motor enables the body housing to be reduced making this a compact, powerful and lightweight machine. With LED job light, electric brake, safety lock-off switch, retractable joist hook and tool-less shoe adjustment this versatile machine is supplied either as body only or complete with two long running 5.0Ah batteries and charger.
At the top of the cordless range of reciprocating saws is the new twin 18v Makita DJR360Z 36v Brushless motor machine which offers all the same performance and features as the 2-speed 18v model but with greater motor power and extended run time and features an ergonomically designed handle with soft grip.  This model is also available sold as a body only machine complete with a durable hard carry case.