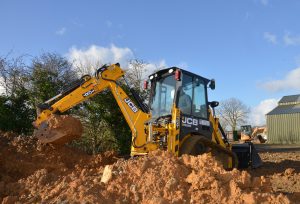 The JCB 1CX-T tracked backhoe loader is proving to be hugely popular for a Welsh plant hirer – as a cost-saving, single-machine solution to a wide variety of tasks.
TJ Wales Plant Hires, based in Haverfordwest, bought the machine from Holt JCB, the local dealer. Combining the capabilities of a mini excavator and a compact tracked loader – it saves customers from the prohibitive costs of paying for two machines for small projects.
The innovative, tracked JCB 1CX-T machines takes the compact backhoe concept a step forward, providing the ideal machine for customers who require increased climbing ability, unparalleled stability and exceptional pushing power in soft ground conditions.
The owner of TJ Wales, Tudor John said: "We chose JCB because of the strong reputation of the brand and we have not been disappointed. The machine is so versatile it is always in demand, either from our hire customers or for our own projects. For small builders on small sites, it's the perfect tool – saving the cost of hiring two machines when the 1CX-T can do the job with just one machine and one operator.
"The other clear benefit is the tracks – which means low ground bearing pressure, greater stability when digging and more power when shovelling. We see great potential with our construction customers as well as with the farming community.
"Over the last few weeks alone it has been used to prepare fencing with an auger, dig out footings on a confined building site, shovel out barns and carry out a host of loading jobs."
While the 1CX-T boasts the power of a 2.5 tonne mini excavator, the standard sideshift backhoe digs up to 36% deeper with the Extradig option, more digging depth than a comparative skid steer with a backhoe attachment.
JCB's telescopic dipper arm design provides the 1CX-T with outstanding loadover and dump heights. As the backhoe has been designed as an integral part of the machine, the 1CX-T also retains far more compact dimensions, making it the ideal machine for confined work sites. The tracked machine has 14% greater bucket capacity than the standard 1CX too, thanks in part to its superior stability over rough terrain.
With powerful high-flow auxiliary hydraulicsit is capable of driving a host of attachments on both the front loader or the rear backhou, making the 1CX-T the master of many tasks in many industries.