GSA 18 V-LI C Professional from Bosch

18 volt precision and versatility
Handy design and high performance for demanding applications
Effortless and comfortable working, even in tight spaces and overhead
Wide range of accessories for flexible use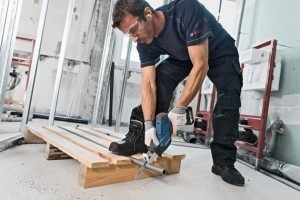 Bosch has extended its range of 18 volt power tools to include a new ultra-compact cordless sabre saw. The GSA 18 V-LI C Professional combines a low weight of just 2.5 kilograms with high power to guarantee fast sawing progress. This precision cordless saw is the ideal tool for electricians, installers and interior construction professionals. It offers a stroke rate of up to 3050 strokes per minute and has many versatile applications, such as cutting and trimming metal tubes, sheet-metal covers, wood paneling and drywalls.
Soft start and low vibration for precise and comfortable working

The GSA 18 V-LI C Professional has a soft-start motor for smooth, precise, controlled operation. This feature means the saw can be safely positioned and guided through metal, wood or plaster with ease. The handle is anatomically shaped for secure grip and comfort, and low vibration values mean that it can be comfortably used even for lengthy periods, as well as one-handed operation. An LED light illuminates the work site so even tight spaces or overhead areas can be seen clearly.
Accessories for any application and high-performance 5.0 Ah battery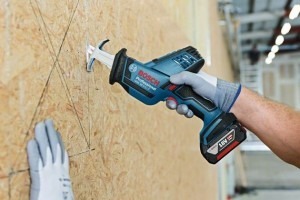 Bosch offers a wide range of system accessories such as saw blades, giving skilled professionals a high degree of flexibility. Thanks to the tried and tested SDS system, saw blades can be changed easily, conveniently and without the need for a wrench. To ensure fast progress and long runtime, the GSA 18 V-LI C Professional has a powerful DC motor and is supplied with a 5.0 Ah battery. The "Electronic Cell Protection" (ECP) system protects the lithium ion battery against overload, overheating and total discharge, and maximises battery life.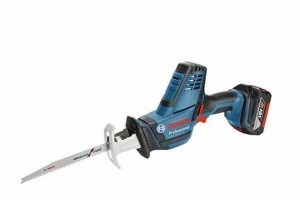 The GSA 18 V-LI C Professional cordless sabre saw is available now for £357 at specialist retail outlets. It is supplied in the L-Boxx including AL 1860 CV Professional charger and two 5.0 Ah lithium ion batteries. The tool is also part of the "Clic & Go" sales system for 18 volt cordless tools by Bosch.
All specified prices are recommended retail prices excluding VAT.