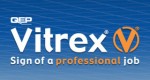 Description
Tool manufacturer in St. Annes, Lancashire
Established in 1939 by Gaston Florin, Vitrex initially developed a range of hand tools during World War 2. The first plastic DIY products to be sold under the Vitrex brand were launched during the 1950's, and continued growth through the 1970's and early 1980's established Vitrex as a leading brand in the emerging DIY consumer market.
Vitrex was acquired by Q.E.P. in 2004 and as part of a leading worldwide manufacturer and supplier of tiling equipment, flooring, tools & accessories,it is now better placed than ever to fulfill its longstanding aim to design, manufacture and distribute professional quality products at affordable prices – for both the keen DIY-er to the professional user.
Today the company is an established and recognised supplier to the very best home centres and distributors in the UK and has been at the forefront of the home improvement market for more than 70 years.
The company's success is attributable to one main resource - its people! The company has built a team of marketing, engineering, warehousing, product development and management personnel second-to-none. With the help and drive of all Vitrex staff, our company has realised new standards of customer service which are often lacking in most of our competitors.
Send Message to listing owner