Description
Tiling equipment manufacturer in Rainham, Essex
Germans Boada, S.A., RUBI®, has its origins in 1951 with the invention of a manual cutter for hydraulic mosaic work, created by the Boada brothers.
This new tool had an excellent reception receiving a diploma of honour and the gold medal at the first national exhibition of inventions, held in Barcelona in 1953. The new tool, christened with the name of RUBI® served as a foundation pillar for this company which now designs, manufactures and distributes machinery and tools for the construction industry specialising in tile laying equipment and along with other building materials.
In order to meet its growth requirements, the company has refurbished its headquarters located in the town of Rubí, near Barcelona (Spain). An important sector of this new logistics centre has been designated to increasing Germans Boada, S.A.'s capacity for production through the introduction of new assembly lines. At the same time, a new annex has been specially designed to house a large show room, which includes an auditorium, the RUBI® museum and an area exclusively dedicated to training.
Their aim is to provide a personalised service adaptable to the needs of each market. Germans Boada, S.A. RUBI not only relies on its channels of direct distribution in Spain, but also on Branches and Associates of direct distribution in Europe, the USA and Asia together with a vast range of Agents and Franchises making it possible for RUBI to have a presence in over 140 countries worldwide.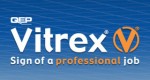 Description
Tool manufacturer in St. Annes, Lancashire
Established in 1939 by Gaston Florin, Vitrex initially developed a range of hand tools during World War 2. The first plastic DIY products to be sold under the Vitrex brand were launched during the 1950's, and continued growth through the 1970's and early 1980's established Vitrex as a leading brand in the emerging DIY consumer market.
Vitrex was acquired by Q.E.P. in 2004 and as part of a leading worldwide manufacturer and supplier of tiling equipment, flooring, tools & accessories,it is now better placed than ever to fulfill its longstanding aim to design, manufacture and distribute professional quality products at affordable prices – for both the keen DIY-er to the professional user.
Today the company is an established and recognised supplier to the very best home centres and distributors in the UK and has been at the forefront of the home improvement market for more than 70 years.
The company's success is attributable to one main resource - its people! The company has built a team of marketing, engineering, warehousing, product development and management personnel second-to-none. With the help and drive of all Vitrex staff, our company has realised new standards of customer service which are often lacking in most of our competitors.