Mervyn Lambert Plant Hire, a Norfolk-based company, has invested in 40 new JCB Loadall telescopic handlers in an order worth in excess of £2 million.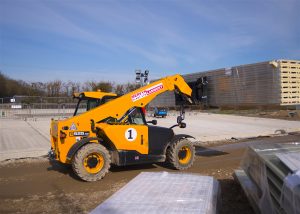 The deal is for JCB Loadall models ranging from 6 to 17 metres including the six-metre JCB 525-60 Hi-Viz models.
The news comes as JCB celebrates the production of its 200,000th Loadall – a machine which has revolutionised materials handling and lifting solutions for the construction, agricultural and industrial markets – since first launched in 1977.
The new machines follow 28 further JCB Loadalls delivered to Mervyn Lambert last year, taking the total value of JCB equipment purchased in the last 12 months to nearly £3.5 million.
Supplied by dealer Watling JCB they join over 200 existing JCB Loadalls and backhoe loaders in the Mervyn Lambert fleet.
Mervyn Lambert Plant Hire Director, James Lambert said: "We continue to choose JCB Loadalls for the quality of the all round package. We have a strong relationship with our dealer, they are good value and there is a high preference for JCB machines among our customers thanks to its strong brand appeal.
"The six-metre machines are in high demand across various applications from farming to confined construction sites. The new JCB 525-60 HiViz models fit the bill and are proving very popular for their ability in tight spaces."
The JCB Diesel by Kohler powered JCB 525-60 HiViz Loadall meets Euro Stage IIIB without the requirement for a diesel particulate filter or an SCR system – delivering a service-free emissions control system, which reduces operating costs and complexity for customers.
Founded in 1969, Mervyn Lambert Plant hire offers a wide range of plant hire and equipment to companies and local authorities across Norfolk, Suffolk, Essex, Bedfordshire, Cambridge, Hertfordshire, Kent and East Sussex.
The company provides operated or self drive plant hire as well as ancillary items from temporary site accommodation to portable toilets and welfare units. Operating from depots Bedfordshire, Essex, Norfolk and Surrey it is now one of the largest machinery and equipment hire companies in the UK, employing more than 250 people.
It has also established a complete range of traffic management services, and has a training centre to manage ongoing training programmes which is accredited by Lantra – the nationally recognised awarding organisation.