GAP Hire Solutions is continuing its market-leading investment in new equipment by purchasing up to 450 lighting towers from key supplier, Generac (formerly Towerlight), in a deal that's worth in excess of £3.1m.
Italian company Generac will supply the popular VB-9 model, fitted with AMOSS (Automatic Mast Operating Safety System) and light sensors. The company will also supply the VT-Hybrid, which GAP will be able to offer customers for the first time. Both models are wrapped in GAP branding and offer significant environmental benefits to customers, with reduced running costs.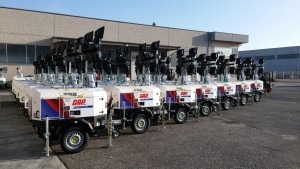 Ken Stewart, Head of Procurement at GAP, commented, 'We're looking forward to offering our valued customers the VT-Hybrid model for the first time. We've conducted an extensive field evaluation programme with some of our national customers and the feedback on the performance of this lighting tower has been excellent. We recognise there are other products in the marketplace, however the support from Generac has always been excellent and that is why we keep choosing them. This year especially they have been exceptional and we look forward to continuing our working relationship with them.'
The latest deal will strengthen GAP's fleet of lighting towers to over 1500, with deliveries of the equipment already underway in preparation for the forthcoming winter season to GAP's 124-strong depot network across the UK.
You can find out more about GAP's extensive product offering by visiting http://www.gap-group.co.uk/product-catalogue.