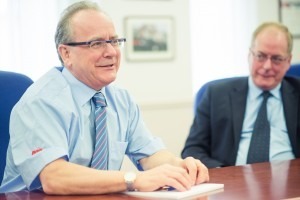 GAP Hire Solutions, the equipment hirer to the construction, maintenance, utilities and events industries, has been crowned the 58th biggest equipment rental company in the world.
The accolade, awarded by International Rental News (IRN) in their IRN100 poll, is based on a survey on rental-related revenues for 2014.
The award follows a successful period of growth for GAP, where the company grew from traditionally hiring out plant and tools, to offering a full hire solution with 8 divisions. These include Plant & Tools, Lifting Hire & Sales, Non-Mechanical Plant, Event Services, Welfare Services, Survey & Safety Hire, Vehicle Hire and GAP's newest division, London Tools & Access.
GAP is currently within the top 5 rental companies in the UK and the largest independently owned business in the equipment hire industry. Run by brothers Douglas and Iain Anderson, the business was started in 1969 by their father, Gordon Anderson.
Douglas Anderson, Joint Managing Director of GAP, commented, 'I am extremely proud of our place in the IRN100. To be amongst the highest ranked equipment rental companies in the world is no mean feat, it has taken hard work by our very talented people and market-leading investment in equipment. Our family ethos makes us unique in the industry we operate in and we will continue to invest in our people, processes and products.'
In 2014/15, GAP achieved their best financial results to date – announcing turnover of £143m – 21% up on the previous year. The company also reported a net profit rise from £13m to £18m.
To find out more about GAP, visit: www.gap-group.co.uk target:"_blank" rel:"nofollow".