Thirty years after launching its business with a single JCB backhoe loader, one of the UK's leading plant hirers has ordered JCB's latest innovation – the brand new full 525-60E electric Loadall telescopic handler.
Michael O'Brien and his wife Annamarie launched M O'Brien Plant Hire from their garden in Luton in 1990 – with the purchase of a JCB 3CX. Since then, the company has evolved into one of the UK's largest and most forward-thinking plant hirers. Today it celebrates 30 years in partnership with JCB with a deal for two 525-60E machines, supplied by dealer Watling JCB.
Now based in St Albans, M O'Brien's commitment to early adoption of the latest technological and environmental advances has secured the plant hirer contracts with some of the most prominent tier one contractors across the country.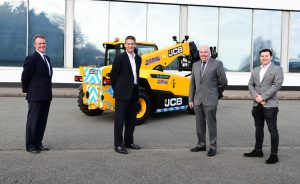 M O'Brien Plant Hire Director, Dan O'Brien said: "We were one of the very first to purchase JCB 19C-1E electric mini excavators and the performance of those machines gave us the confidence to become one of the first to buy the 525-60E electric Loadall too. With the addition of the fast charger further enhancing its performance it will be perfect for materials handling on major urban sites.
"By investing heavily in JCB's ETECH range of fully electric kit from the outset, we are supporting the evolution of clean technology in plant and equipment and will help bring forward the point when an even larger range of zero emissions machines are viable on site.
"In doing so we make our own contribution to reduced carbon emissions and enable our clients to minimise their impact too. On the high profile infrastructure projects such as HS2 and for Network Rail, contractors must be willing to lead the change and make meaningful commitment to the environmental cause. There is no question that our clear commitment to green technology and the support of their goals has strengthened our relationship with these major firms."
"The capabilities of the machine itself are equally exciting. When tunnelling, operating underground or in low emissions zones, the fact it gives off no harmful emissions when idling and reduces the need for diesel filters or expensive ventilations will make a massive difference in providing better air quality to those working around the machinery. I see it handling materials in the heart of major sites where its compact dimensions will be valuable. What also strikes me is the visibility. The cab is well designed and positioned high up so the full view front and rear is excellent for such a compact machine.
"We have been loyal to JCB since day one and its telehandlers in particular are superb. We look forward to seeing these machines in action on shaft works and tunnelling for projects such as HS2 and further enhancing our appeal to major contractors."
JCB is the world's number one telescopic handler manufacturer having pioneered the concept in 1977. 43 years later it has taken the wraps off the brand new 525-60E Loadall model – the first ever full electric version. Designed to deliver the same performance as the conventional diesel-powered machine, the 525-60E offers a zero-emissions load handling solution. A further benefit of electric operation is a significant reduction in noise levels, making the Loadall suitable for extended operation in sensitive urban job sites.
External dimensions are unchanged from its diesel counterpart and the 525-60E offers the same 3.7m outside turn radius. Maximum lift capacity is 2,500kg, with a 2,000kg maximum load at the full six metre lift height. The machine has been designed to deliver similar cycle times as the diesel telescopic, with no loss of performance.
M O'Brien was founded in 1990 with a single JCB 3CX backhoe loader. Today the business runs in excess of 600 machines and heavy equipment and employs more than 450 including plant operators, engineers, yard staff and the office team based across the companies depot network.
The business operates on a nationwide basis, providing a one stop plant solution to a wide variety of clients including blue-chip companies such as Balfour Beatty, Skanska, Costain, Bam Nuttall, Morgan Sindall to name but a few. Its extensive fleet includes excavators from 0.5 to 50 tonnes, site dumpers from 1 to 50 tonnes and a range of telescopic handlers, compaction rollers, tractors and attachments.