Equipment manufacturer JCB today announced an order for 50 skid steer and compact tracked loaders from national equipment and crane hire firm Hewden in a deal worth £2.5 million.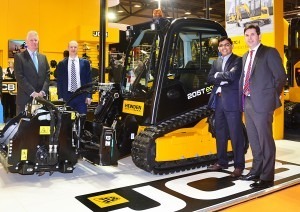 The deal is for the JCB 155 and 205T tracked models and has been secured thanks to the health and safety benefits of the unique 'Power Boom' design of JCB's skid steer range. This enables operators to enter the cab of the machine through a large side door rather than climbing over potentially dangerous attachments at the front.
The machines have been supplied through dealer Gunn JCB and the deal also includes a huge range of JCB attachments which will make the machines some of the most versatile in the Hewden fleet. These include: augers, pallet forks, shovels, trencher, waste grapple, patch planner, sweeper collector, brush cutter, landscape power rake and breakers.
Hewden CEO Adrian Murphy said: "This is the latest in a significant round of investments for Hewden. We believe in having the latest and newest technology to meet our clients' exacting demands.  We were impressed with JCB's design of its skid steer and compact tracked loader range and the health and safety benefits it offers. Having a side-door entry point is just common sense and sets the standard for the industry. Beyond that is the versatility of the equipment:  it enables our hire customers to deploy the equipment in a range of challenging environments. This, together with our recent investment in our crane and lifting fleet, shows we are at the forefront of providing the latest innovative machinery for customers."
JCB Chief Executive Officer Graeme Macdonald said: "This order is very significant for JCB and we are delighted that such a major hirer as Hewden recognises the unique health and safety benefits of the JCB skid steer range."
Operators of JCB's skid steer range can now enjoy the comfort of a cab interior that is 46 per cent larger than comparable models. A 270-degree field of view also provides a 60 per cent improvement on the panorama from conventional skid steer loader designs, enhancing the health and safety of those working in or around the machinery.
The safety and comfort of the operator has also been factored in to every stage of the latest design; low-effort servo assisted controls make operation light and easy; a multi-function joystick also enables operators to use a wide array of hydraulic attachments. A large front window panel also provides easy evacuation in the event of an emergency – a vast improvement on the small rear exits provided on conventional designs.
The small footprint and versatile handling characteristics of JCB's compact tracked and skid steer loader makes it the multi-purpose tool of choice. It has a range of attachments for multi-function lifting and digging capabilities, making it suitable for general construction work, waste and recycling, road construction, agriculture, ports and solar farm usage.  
Other benefits of the JCB skid steer and compact tracked loaders include two-speed transmission on the 155 model which achieves quicker travel and cycle times; a JCB diesel by Kohler KDI engine features a maintenance-free diesel-oxidation catalyst (DOC) and offers improved torque and fuel efficiency and low effort servo-assisted controls with a multi-function joystick allows the operator to operate a wide array of hydraulic attachments. The 205T compact track loader has the ability to turn within its own axis offering unparalleled manoeuvrability for restricted areas. The 155 has a tipping load of 1,406kg and a loader lift capability of 1,770kg. The 205T has a tipping load of 2,656kg and a loader lift capacity of 1,570kg.