Multi-contact slide batteries with high capacity cells and protection circuitry
New more powerful motors generate increased torque
8V market sector growing rapidly
Makita has launched a fresh 'CXT' range of 10.8V tools featuring a new slide battery as an addition to their current 10.8v tools featuring the cluster style batteries. The new 10.8V Lithium-Ion slide battery, similar to the market leading 18V Li-Ion battery used in the heavier tool range, has multi-contact terminals to ensure stable contact even under extreme work vibration conditions. The slide battery fits easily into the tools and new chargers and has the same high level of structural strength as well as having built-in protection to prevent overload or over discharging.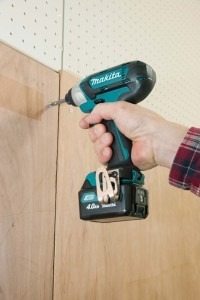 The tools are supplied with 2.0Ah batteries with a 4.0Ah version available as an optional accessory purchase. These new slide batteries have protection overload circuitry, will operate down to -20°C and have a 4-stage LED fuel gauge indicator. Complete tools are delivered with the standard DC10WC charger whilst from the accessory range the DC10SA charger has a fan cooling system that cuts charging time to just 30 minutes for the 2.0Ah battery.  The new 10.8V slide battery is fitted to the latest 'CXT' range of tools which includes a Combi Drill, Drill Driver, Impact Driver, Reciprocating Saw and 85mm Circular Saw.
The new Makita DF031D drill driver is a two-speed drill capable of driving a 10mm bit through steel and a 21mm bit in wood. The DF031D will run up to 1,700rpm, has 18 torque settings for fixing in addition to drilling; variable speed control trigger and electric brake. The ¼" hex chuck simply slides back to fit and lock the bit. Weighing just 1.1kg, and with ergonomic soft grip, LED job light and belt clip, this compact but powerful drill driver is ideal for installation and precise assembly operations.
The new Makita TD110D 10.8v CXT Impact Driver, now with 110Nm, has 20% more torque than its predecessor and up to 3,500 impacts per minute capable of driving an M10 high-tensile bolt. This outstanding power output can be attributed to the new motor design and also the direct drive from motor to chuck in this small, powerful tool. Weighing just 1.2kg, and with similar features to the drill driver, all of the new 10.8V slide battery machines have full battery protection circuitry to protect the battery and the machine from overload stress.
Two versions of the CXT reciprocating saw are available. The JR103D has tool-less blade change whilst the JR105D has screw fixing for the blade which enables the jigsaw blades to be used.  Both have 13mm length of stroke and run up to 3,300 strokes per minute enabling cutting of 50mm diameter pipe or 50mm thick wood.  Conveniently there are twin control switches on these new reciprocating saws. A paddle switch below the body is useful when holding the saw in position by gripping round the narrow body or, conversely, the trigger switch on the grip handle is useful when using the saw at full arms length pistol-fashion.  All 10.8V tools are supplied with the new slide-type 2.0Ah batteries or as body only units. The new Makita HS301D CXT 85mm circular saw can cut to 25.5mm deep, or to 16.5mm, at maximum 45° blade angle which will run up to 1,500rpm. With narrow motor body and robust base frame this is a well balanced cordless circular saw ideal for all installation operations.
The latest 10.8V slide battery range will continue the expansion of this sector of the Makita range where the power and manoeuvrability of these precision tools has seen sales grow continuously since 2012, with thousands of the current 2-piece drill and impact driver kits already being sold annually. The latest 2-piece 10.8V kits feature the impact driver paired with the either the drill driver, or combi drill, supplied together in the robust Makpac case with charger and two 2.0Ah batteries.
For more news and product information, visit Makita UK