¾" square drive with 5.0Ah battery gives extra-high 1,050Nm of tightening torque
½" version gives 1,000Nm and weighs just 3.6kg
3 torque levels and the number of blows can be set
Makita high performance impact wrenches have set the standard of torque performance for the steel erection industry, heavy engineering, plant maintenance and for the pit-stop teams in the World Touring Car Championship and all-electric Formula E World Championship. Two new models, fresh off the assembly line, of these powerful but lightweight cordless tools can deliver breathtaking levels of torque.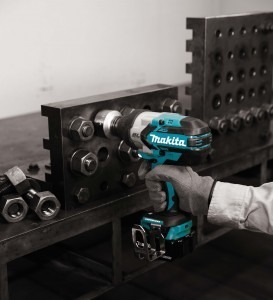 The new Makita DTW1001 LXT impact wrench with brushless motor is a ¾" square drive machine that can produce 1,050Nm of tightening torque and even more; up to 1,700Nm of nut busting torque to free the toughest fixings. Powered by the latest Makita Brushless motor and driven by a 5.0Ah version of the 18v Lithium-Ion battery, this mighty and sophisticated powerhouse can be set electronically to deliver three levels of impact power – hard/medium/soft – which, with corresponding speeds of up to 1,800rpm/1,000rpm/900rpm, will deliver torque figures of 500Nm/750Nm and 1,050Nm respectively. This enables the precise number of blows to be delivered in line with the speed of the wrench to ensure that the right level of tightening torque is applied for specific applications and specific fixings.
Capable of tightening an M30 standard bolt, or M24 high tensile bolt with impact sockets held on the ¾" square drive with a pin and ring fixing, the new Makita DTW1001 impact wrench weighs just 3.7kg; has electronic drive brake and variable speed trigger on the soft-grip handle, with reverse switch conveniently alongside, and twin LED work-lights with afterglow delay. The base of the handle also has a built-in dampening section to prevent batteries from being damaged by impact vibration when the tool is in operation. This is certainly the most powerful 18v cordless impact wrench ever produced by Makita and will be welcomed by steel fixers, plant engineers and heavy engineers worldwide.
The second mighty impact wrench is the new Makita DTW1002 which has the more common ½" square drive to carry impact sockets and identical technical features as the ¾" model with the exception of the drive being a friction-push fit, but delivers a maximum 1,000Nm of tightening torque. Both new impact wrenches are delivered either as body only models or complete with two 5.0Ah Li-Ion batteries, and charger, in a rugged MacPac type 3 case.