A caving expedition from the University of Sheffield was supplied with tougher, faster and more advanced DH18DSL 18V SDS power tools by Hitachi, with spectacular results, both for the expedition team and Hitachi Power Tools.
The expedition to Serbia had a primary objective; to join a local Serbian caving club in surveying the area north of the Montenegrin/Serbian border on the Pešter plateau to try and locate a potential entrance to that runs from Montenegro to the Serbian side of the border.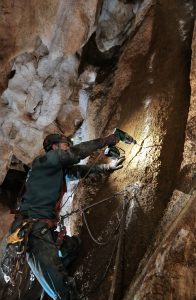 "The main advantage of the Hitachi drills is the battery life – we were able to drill 14 good anchor-holes on a single battery," explains Will Burn from the University of Sheffield Speleological Society. "This is a huge advantage in expedition caving because it allows maximum exploration on a single battery as charging is impossible once you are in a cave. In addition, the drills were light enough to be used overhead when bolt climbing upwards into avens, and easy to carry long distances in backpacks, where teams were sometimes walking up to 30km per day."
Over the 12 days spent on the plateau, the teams covered over 200km2 of ground on foot searching for cave entrances. Of the 185 potential sites, 100 were surveyed, recorded, GPS tagged and photographed. The expedition also found many new pits not spotted from the aerial analysis.
"The tools provided by Hitachi aided us greatly as most of the caves on the plateau were vertical shafts, meaning we had to drill our own anchors in order to explore them. Having four drills meant that we could send out all four groups knowing that they would be able to tackle any cave they came across," continues Will.
The team found numerous notable sites on the plateau; including "Dead Cow Cave" – a 60m deep shaft filled with fallen cattle, "Area 51" – an enormous chamber with a daylight shaft inhabited by interesting biology and unspoiled calcite formations tucked away beneath boulders in the floor, and "The Grave Cave" – a 20m deep shaft located next to an isolated tomb. Translations of the Cyrillic script found on the gravestone revealed it to be of an "Ili-Petri Dubrovsky" who was a local hero in Pešter during the 1800s.
Simon Miller, Brand Manager of Hitachi Power Tools, commented "I am really pleased we are able to support these endeavours, and proud that the performance and runtime of our cordless drills has enabled further scientific exploration than would previously be possible."