After fathering three boys, digger company boss Scott Hardwick is so ecstatic at the prospect of finally becoming a dad to a baby girl that he has added a pink JCB mini excavator to his fleet.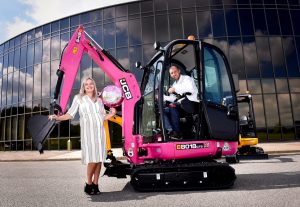 Scott Hardwick, 33, who owns Barnsley-based Hardwick Plant Limited has splashed out thousands of pounds on the new 1.8 tonne mini digger to mark the impending birth in October. Scans show that the baby is a girl and Scott and his partner and mum-to-be Cheryl Woollands, 25, wanted to celebrate her arrival in style. She is due on October 20 and will be called Rosie.
Scott said: "I've got three lads already – Rhuben, 6, Charlie, 4, and Oliver, 2 – so I was very happy when I learned I was also getting a daughter – it's a lovely feeling. Given the business I am in, a pink mini JCB is really good way to celebrate a baby daughter coming on to the scene and obviously it's a very appropriate colour for a girl."
Scott approached his local JCB dealer T.C. Harrison, based in Chapeltown, Sheffield and put in the unusual request for the pink digger. The JCB 8018 excavator – which is valued at £22,700 – was then manufactured at the JCB Compact Products factory in Cheadle, Staffs.
The pink machine is already turning heads while on permanent hire to south Yorkshire-based utilities company DKS Utilities, working on projects for Yorkshire Water, Anglian Water and Welsh Water. DKS already has two other JCB mini excavators on hire from Hardwick Plant.
This is the ninth JCB 8018 that Scott has bought through T.C. Harrison JCB – the others being in traditional yellow and black livery. And he has just placed another order for eight more, which will be delivered to his plant hire company on a monthly basis between now and next spring.
He added: "JCB mini excavators always go down well with utility companies for use on gas, water or electricity projects. I always get great after sales service from T.C. Harrison JCB and that's what makes JCB stand out from the crowd and why I keep coming back with new orders."