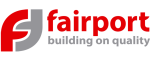 Description
Construction equipment manufacturer in Sheffield, South Yorkshire
Fairport Construction Equipment Ltd. is a manufacturer of construction equipment including plate compactors and pokers based in Sheffield U.K. The facility forms the hub for sales, support and distribution of machines, tools and equipment used by the building / construction industry in the UK and worldwide.
As well as supplying compaction equipment such as Tamper Rammers, Vibrating Rollers and Reversible Plate Compactors the factory also houses Fairport's sister company Flexible Drive and Tool, Which manufactures flexible drives for the marine, agricultural, petrol chemical, food, and construction industry.
Website coming soon!
Fairport equipment is available for sale direct from the factory in Sheffield U.K. or via a growing network of distributors.
Description
Construction equipment in Uttoxeter, Staffordshire
In every corner of the world you'll find a JCB machine. JCB is one of the world's top three manufacturers of construction equipment. We employ around 12,000 people on four continents and sell our products in 150 countries through 2,000 dealer depot locations.
Throughout our 68 year history, we have always invested heavily in research and development, keeping JCB at the cutting edge of innovation.
Today, JCB has some of the finest engineering facilities across the globe, produces a range of over 300 machines and maintains a reputation for unrivalled customer service.
JCB, a truly world-class and still family owned company.
History of JCB
The very first machine that Mr JCB built was a tipping trailer he made using a £1 welding set and sold at the local market for £45! That was in 1945.
In 1948, there were 6 people working for the company which then made a hydraulic tipping trailer - the very first in the whole of Europe.
In 1953, along came the first machine to be stamped with the JCB logo you see on machines today. This was a Backhoe Loader (what we all call a digger!) and it's the machine that everyone nowadays calls a JCB.
In the 1960s, Mr JCB began the tradition of cool JCB stunts to publicise the company name. This is how the world-famous Dancing Diggers started. If you've never seen the Dancing Diggers before please view our quick movie.
Today, JCB has over 7,000 employees and we make 279 different machines. But we're still based in the Midlands so we've got our own JCB jet and helicopter that we use to fly in our customers.
Description
Construction equipment manufacturer in Bolton, Greater Manchester
MBW has always been know as a company that stretches "the envelope" in its effort to advance technology. By 2005 MBW's product line had expanded to over 90 individual products with hundreds of model variations. Some of MBW's more recent and award winning product developments include:
Smart Rammers - Improving compaction performance yet reducing vibration at the operator position through increases in reaction mass and a lower center of gravity. The Smart Rammer features the industries first integral tach/hour meter to verify that the rammer is running at an optimal level from a compaction viewpoint and to indicate service intervals for owners or rental operators.
EXA & UVW Vibratory Wheels - These attachments for backhoes and excavators combine host machine down-pressure with vibratory dynamics. EXAs & UVWs are versatile and can be used across the full spectrum of soil types. Productivity gains compared to alternative methods offer huge potential. Maintenance is low compared to other compaction equipment.
Soil Compaction Meter and Supervisor - Low cost, battery powered, and easy to use seismic technology that informs compaction equipment operators when they have achieved maximum achievable soil stiffness and corresponding density under existing conditions. The answer to high cost, often impractical alternative soil testing methods. Independently tested with very high correlation to typical density specifications. Provides direct index of soil stiffness.
Slip Form Paver - A downsized curb & gutter slipform paver offering users a technically advanced, high production machine at an affordable price. It excels at pouring tight radii. Pouring parameters 18" high by 48" wide.
Soil Pick - A Pneumatic soil excavator that employs a supersonic air stream to locate and excavate around buried utilities. A selective excavator in that only non-porous soils are fragmented and removed. Will not damage utilities and tree roots. A multi-application tool with uses in construction, agriculture, shipping and many other fields.
World Class Manufacturing
MBW's passion to innovate may be most readily apparent in its product line. But it's MBW's innovative approach to running its business coupled with ongoing investment in engineering, production and data processing technology that has enabled MBW to operate with world class efficiency. MBW's plant is state of-the-art. The heart of MBW's production facility is a battery of CNC metal working machinery. Microsoft Windows XP workstations with SolidWorks software link manufacturing and engineering departments. MBW also utilizes MAPICS XA software on an IBM iSeries for accounting and inventory control which includes an unparalleled MRP (Material Requirements Planning) package. MBW has received national attention in computer industry trade publications as an American manufacturer on the cutting edge of computer related manufacturing methodologies. On the financial front, MBW's innovative business approach resulted in a national test case which allowed for the application of LIFO inventory valuation methods to a manufacturing environment.